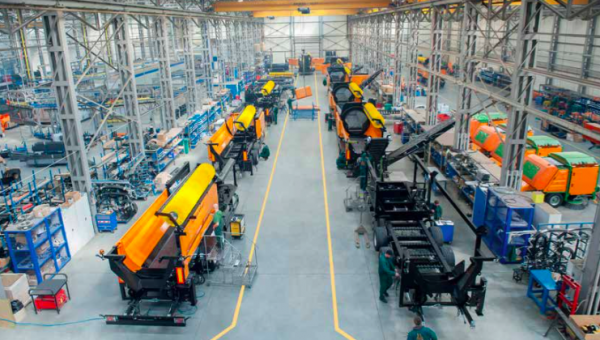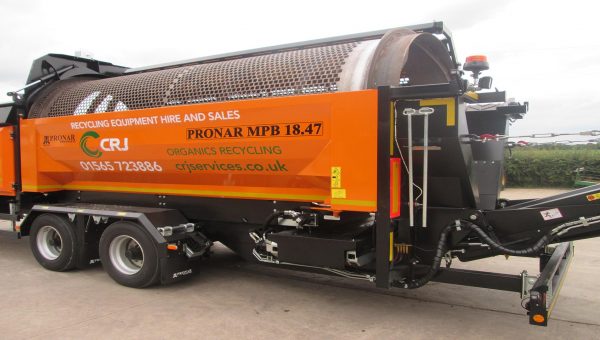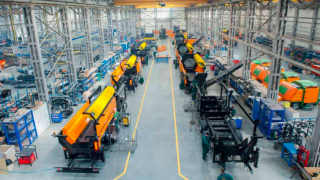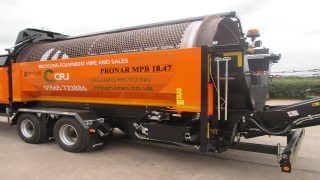 Pronar 18.47 Wheeled Trommel
1.8m diameter x 4.7m long interchangeable metal drum perforated with required hole size. These machines utilise huge surface area within a small footprint, whilst keeping drum clean with hydraulic brush. Reliable, Self Cleaning and Precise.
Pronar 18.47 Wheeled Trommel
Pronar 18.47 is a mid size trommel machine, the drum is 4.7m long x 1.8m diameter of sieving media, which can be replaced (<10mins) by simply, sliding back hopper hydraulically, opening large side door and lifting out drum.
This machine retains all the advantages of smaller 14.44 and larger models, 20.55 and 20.72.  Automatic greasing, 1 year warranty, cartridge style components, exceptional maintenance benefits and optimum control functions.
The Pronar 18.47 will accept the Doppstadt SM518 trommel drum allowing the customer to utilise other drum media should they have it or need to rent it.
The Pronar 18.47 Trommel Machine has been designed to compete with Doppstadt SM518, Powerscreen trommel range,  Komptech trommel range, Terra Select trommel range and other machines of this type.  The Pronar 18.47 is the latest machine to the market, with all the benefits of other brands whilst improving functionality, making this machine the most up to date, robust, innovative and affordable machine on the market.
Available for rental or sale
---
Why Use a Trommel
Reliable, self cleaning and precise
Using a large interchangeable metal drum perforated with required hole size, these machines utilise huge surface area within a small foot print. Trommels consistently produce accurate sizing of almost any waste type, tumbling and sifting the material through while keeping the drum holes clean with a hydraulically foldable brush.  Combined with high fuel efficiency, reliability and independent operation, it not only produces top quality material but benefits from very low operating costs.
Pronar Trommels
Quick drum change enables you to change size grade from 5-100mm in moments [<10 min].  Utilising outstanding ergonomics, these machines are not only a luxury to work with but a pleasure to work on, centred around:
Movement
Short set up times thanks to simple hydraulically foldable and driven discharge conveyors, these machines can be folded up and ready for transport in under 10 minutes
Maintenance
Large protection doors, swing out engine unit, cartridge style components simple to remove, automatic greasing, 1 year warranty, give for a reliable asset.
Adaptability
Interchangeable drums can have square, round or diamond holes depending upon application from 6-10mm thickness with perforations between 8-100mm.  These machines can screen any mediums if setup correctly.
Key features
Accurate sizing [aperture sizes can be between 5-100mm]
Quick and easy drum change
Proven, reliable technology
Low maintenance
High fuel efficiency
Long reach conveyors
One-man operation
Low operating costs
Diesel electric option enable powering for zero indoor emissions
Automatic greasing
Available for rental or sale
Give us a call or get in touch if you would like to buy, discuss or have a general enquiry about a mobile screener in and around London UK, Bristol, South Wales, or pretty much the whole South UK.
---
Machine Details
---
Trommel dimensions (lenght/width) [mm]
4700/1800
Trommel rotational speed [rpm]
up to 23
Effective sieve surface [m²]
22,1
In-Feed hopper dimensions (length/width) [mm]
3560 / 2120
Loading height [mm]
2700
In-Feed hopper capacity [m³]
5
Dimensions of exterior side conveyor (length/width) [mm]
5150/800
Dimensions of exterior rear conveyor (length/width) [mm]
5150/800
Width of interior transverse conveyor [mm]
600
ENGINE VERSIONS
• combustion engine MITSUBISHI
(EU Stage 3A – 58kW)• combustion engine CATERPILLAR
(EU Stage 3B – 55kW)
• combustion engine DEUTZ
(EU Stage 3B – 55kW)• electric motor
Control voltage [V]
12
Central lubrication system
yes
Gross weight [kg]
14000
Overall dimensions (length/width/height) [mm]
10990/2550/3900
Maximum speed [km/h]
100
Brake system
pneumatic with EBS
ABS configuration
4S/2M
Brake type
drum brake
Additional power supply to EBS module
yes
Type of mounting attachment
mechanical
Number of wheels
4
Tyre dimensions
435/50 R19,5 (160J)
Axle manufacturer
ATW/ADR
Number of axles:
2
Maximum axle load [kg]
9000
Front support legs
2 mechanical
Rear support legs
1 hydraulic
Road lighting voltage [V]
24 (12)
Type of road lights:
LED
Drawbar eye diameter [mm]
50
Drawbar eye height [mm]
950 (±110)
Cutting barriers
yes
Mudguards
steel
Mud flaps
yes
Warning signs
yes
Contour markings
yes
*Rotating warning beacon
yes
Tool box (1 piece: – 5Ol)
Optional
Water container (30l) with a soap dispenser
Optional
---

Recirculating System?: 0
Type: jaw
Bogey Option: 0
Conver Rotator: 0