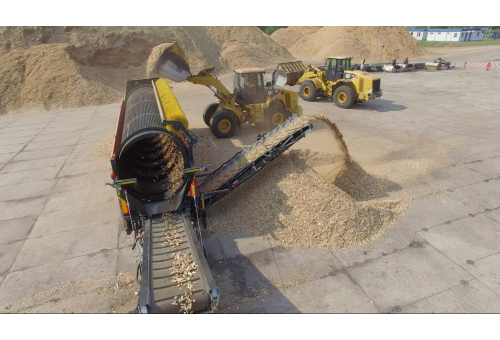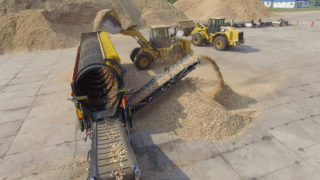 Wheeled Trommel Machines
We have a selection of different length and diameter wheeled trommels available for rental. Get in touch with your requirements and we will spec up the machine to do the perfect job in your application. Earth Equipment supply, service and maintain all their machines in the best possible condition, no exceptions. With Competitive rates, up to date, quick and reliable equipment, means our machines arrive on site and perform.
Complete range of Trommel machines available for rental.
Pronar or Doppstadt SM620 are large trommel machines available for Sale or Rental, with a large trommel drum size of 5.5m long x 2m diameter of sieving media, which can be replaced (<10mins) by simply, sliding back hopper hydraulically, opening large side door and lifting out drum.
These trommel machines comes with huge incentives over rival machines, wheeled chassis, interchangeable drum, pull out engine, better value for money whilst maintaining all the benefits .  Automatic greasing, 1 year warranty, cartridge style components, exceptional maintenance benefits and optimum control functions.
The Pronar 20.55 will accept the Doppstadt SM620 trommel drum.  This allows the customer to utilise already purchased drums without being tied into a trommel because they have already got drums on the ground for their old machine.  It also means that rental of a drum is a lot easier as it cuts out the amount of different company type drums on the market.
The Pronar 20.55 Trommel Machines have been designed to compete with Doppstadt SM620, Powerscreen trommel range,  Komptech trommel range, Terra Select trommel range and other machines of this type.  The Pronar 20.55 is the latest machine to the market, with all the benefits of other brands, making this machine the most up to date, robust, innovative and affordable machine on the market.
Available for rental or sale
Give us a call or get in touch if you would like to buy, discuss or have a general enquiry about a mobile screener in and around London UK, Bristol, South Wales, or pretty much the whole South UK.
---
Why Use a Trommel
Reliable, self cleaning and precise
Using a large interchangeable metal drum perforated with required hole size, these machines utilise huge surface area within a small foot print. Trommels consistently produce accurate sizing of almost any waste type, tumbling and sifting the material through while keeping the drum holes clean with a hydraulically foldable brush.  Combined with high fuel efficiency, reliability and independent operation, it not only produces top quality material but benefits from very low operating costs.
Pronar Trommels
Quick drum change enables you to change size grade from 5-100mm in moments [<10 min].  Utilising outstanding ergonomics, these machines are not only a luxury to work with but a pleasure to work on, centred around:
Movement
Short set up times thanks to simple hydraulically foldable and driven discharge conveyors, these machines can be folded up and ready for transport in under 10 minutes
Maintenance
Large protection doors, swing out engine unit, cartridge style components simple to remove and maintain, automatic greasing, clean fix auto reverse radiator fan and 1 years warranty give for a reliable asset.
Adaptability
Interchangeable drums can have square, round or diamond holes depending upon application from 6-10mm thickness with perforations between 8-100mm.  These machines can screen any mediums if setup correctly.
Key features
Accurate sizing [aperture sizes can be between 5-100mm]
Quick and easy drum change
Proven, reliable technology
Low maintenance
High fuel efficiency
Long reach conveyors
One-man operation
Low operating costs
Diesel electric option enable powering for zero indoor emissions
1 years warranty
Automatic greasing
Give us a call or get in touch if you would like to buy, discuss or have a general enquiry about a mobile screener in and around London UK, Bristol, South Wales, or pretty much the whole South UK.
---
Recirculating System?: 0
Type: jaw
Bogey Option: 0
Conver Rotator: 0